Some notes by pHinnWeb



Space: 1999 and other Gerry and Sylvia Anderson productions on Finnish TV
The Finnish debut of the Year One of Space: 1999 took place in July 1976. In Finland the series got the title "Avaruusasema Alfa" ("Space Station Alpha").
This was not the first Anderson production seen in Finland, though. Gerry Anderson's puppet series Supercar launched as early as 1963 on Tesvisio (also known as TES-TV) and Tamvisio. Both were early Finnish TV channels which were merged to Yleisradio (Finnish Broadcasting Company) in 1964 and became YLE TV2 in March 1965.
Stingray was the next TV production by the Andersons that had its run in Finland, as part of Mainos-TV's spring 1965 schedule. The Finnish title of the show was "Kapteeni Myrsky" (translates as "Captain Tempest").
The first episode of Thunderbirds (in Finnish "Myrskylinnut") on Finnish television was shown by YLE TV2 on the 5th of January, 1966. The Second Season started in Finland exactly one year later, the 5th of January, 1967.
In 1968 were seen those eight First Season episodes that TV2 hadn't shown two years earlier. Thunderbirds also had its rerun on YLE TV2 during the fall 1973.
No other TV shows by Gerry and Sylvia Anderson were seen in Finland before Space: 1999, so Finnish viewers of the day were not familiar with such Anderson productions as Captain Scarlet and the Mysterons or UFO.
Furthermore, on the 25th December 1976 YLE TV1 had the Finnish premiere of the Anderson-produced one-off TV special The Day After Tomorrow (a.k.a. Into Infinity), starring Brian Blessed (guest star of the Space: 1999 episodes Death's Other Dominion and The Metamorph) and also featuring Nick Tate, Captain Alan Carter of Space: 1999.
Doppelgänger (a.k.a. Journey to the Far Side of the Sun), the 1969 feature film produced by Gerry and Sylvia Anderson was seen on the 13th of August 1984 on Mainos-TV1, later also on some cable channels.
Finnish television in the 1970s
First some background facts on Finnish television culture in the 1970s, in many ways still in its infancy and having to cope under different kinds of technical and economic limitations, not to speak about the heavy political pressure that also had its effect on what the 70s Finns could and could not see on their TV sets.
Established in 1957, Finland had only one commercial TV company, called Mainos-TV or MTV (not to be confused with the international music channel which started in the 1980s). It had no channel of its own, instead renting daily airtime from Finnish Broadcasting Company's TV1 and TV2. Thus every day on both public channels a couple of hours were dedicated to the programme blocks of Mainos-TV.
The deregulation of Finnish state broadcasting took place in the 1980s, spawning new commercial channels such as TV3 (in Finnish "Kolmoskanava") in 1986. Mainos-TV was given TV3's entire channel frequency in 1993 after which it was re-named MTV3.
MTV's schedule consisted in the 1970s mostly of light entertainment, comprising popular American TV shows, soap operas and comedy (all interrupted by TV commercials). These were sandwiched in between YLE's programmes which had a more serious approach - news, political topics, education and "highbrow culture" in general - and no commercials in sight.
YLE had its own share of entertainment, though: popular drama, comedy, music shows and so on, both domestic and international. There was even some competition with Mainos-TV concerning which company would be the first to ensure the Finnish TV rights to a certain popular show of American, English or European origin.
What distinguished Finnish television in the 1970s from many other Western counterparts was that TV shows, feature movies, drama or children's animations originating from the Soviet Union and the rest of Communist Eastern European countries also featured prominently on the programming schedule, both on YLE and Mainos-TV.
Though the first colour broadcasts had taken place in Finland as early as 1968, for technical and budget reasons Finnish TV in the 1970s was still dominated by black and white programming, especially where domestic TV shows were concerned. The majority of people (who couldn't afford or didn't want to invest their hard-earned wages on expensive colour TV sets) would only see the colourful settings and costumes of the shows like Space: 1999 in stark monochrome.
Also, telling again about the lack of domestic resources, all the way to the late 1970s, Finnish TV2 had its annual summer break lasting the whole of July, TV1 then remaining the only television channel in the whole country during that most popular summer holiday month in Finland.
During July and August 1976 Space: 1999 episodes were shown on Saturdays on Mainos-TV's TV1 programme schedule. From September 1976 onwards they moved to the Tuesdays' 19:15 slot on TV2, switching places every other week with such shows as Six Million Dollar Man.
Year One episodes
Saturday 10th July 1976, Mainos-TV/TV1, 21:50 (9:50 pm): "Maasta irti" (Breakaway). First episode shown in Finland.
Saturday 24th July 1976, Mainos-TV/TV1, 19:35 (7:35 pm): "Inhimillinen kone" (Infernal Machine). Second episode shown in Finland.
Saturday 31st July 1976, Mainos-TV/TV1, 19:55 (7:55 pm): "Avaruusaivot" (Space Brain). Third episode shown in Finland.
Saturday 7th August 1976, Mainos-TV/TV1, 21:50 (9:50 pm): "Valoilmiö" (Ring Around The Moon). Fourth episode shown in Finland.
Saturday 14th August 1976, Mainos-TV/TV1, 21:50 (9:50 pm): "Musta aurinko" (Black Sun). Fifth episode shown in Finland.
Tuesday 17th August 1976, Mainos-TV/TV2, 19:15 (7:15 pm): "Ikuisuuden loppu" (The End of Eternity). Sixth episode shown in Finland.
Tuesday 31st August 1976, Mainos-TV/TV2, 19:15 (7:15 pm): "Kuollut planeetta" (Death's Other Dominion). Seventh episode shown in Finland.
Tuesday 14th September 1976, Mainos-TV/TV2, 19:15 (7:15 pm): "Arkadian testamentti" (The Testament of Arkadia). Eighth episode shown in Finland.
Tuesday 28th September 1976, Mainos-TV/TV2, 19:15 (7:15 pm): "Viimeinen vihollinen" (The Last Enemy). Ninth episode shown in Finland.
Tuesday 12th October 1976, Mainos-TV/TV2, 19:15 (7:15 pm): "Puuttuva rengas" (Missing Link). Tenth episode shown in Finland.
Tuesday 26th October 1976, Mainos-TV/TV2, 19:15 (7:15 pm): "Kaksi kuuta" (Another Time, Another Place). Eleventh episode shown in Finland.
Tuesday 9th November 1976, Mainos-TV/TV2, 19:15 (7:15 pm): "Takaisin Maahan" (Earthbound). Twelth episode shown in Finland.

Only twelve of Year One's 24 episodes were shown in Finland in 1976. Also the order of appearance of episodes was very arbitrary.
Reception in Finland
Finnish TV2 had shown some episodes of Star Trek in 1974 and then abruptly cancelled it. Gene Roddenberry's original series had been a cult success almost everywhere else, but very few Finnish people had a chance to see it before the 1980s. It could be argued that in Finland Space: 1999 filled that need for a science fiction TV cult among local fans who received the show enthusiastically despite Finnish television critics, such as the feared Jukka Kajava, almost universally panning the show.
After all, this was the heavily politicised 1970s when there was an emphasised moral outrage against American popular culture and a strong concern about onscreen violence affecting children and young people.
For example, such American TV shows as Kojak, Six Million Dollar Man or Starsky and Hutch generated negative publicity for their violent scenes or were eventually banned altogether by Finnish Programme Council. Even the campy TV version of Batman had been cancelled in 1967 for its alleged violence.
(Incidentally, this was also the same era when Donald Duck comic books, again of American origin and translated from English, were banned by the public library authorities in Kemi, Northern Finland - the sole reason being that the ducks wore no trousers.)
Up to the early 1990s TV and radio in Finland were strictly observed and regulated by YLE's Programme Council, with representatives from all political parties, reflecting whatever was the parliamentary situation at the given moment, and with the right to cancel any show deemed inappropriate for domestic audiences.

The Game of Cancellation - Banned: 1976
It could be said a full-fledged Space: 1999 mania was raging in Finland for the latter part of 1976.
At schoolyards children were playing Balor from End of Eternity, collecting bubblegum cards manufactured by Monty in Holland and building Eagle Transporter model kits by Airfix. Both being among the merchandise that was imported to Finland (including also the View-Master reels of War Games episode and Mattel's action figures).
However, the Gothic atmosphere of Space: 1999 turned out to be a bit too effective, since after the initiative put forth by the association of Finnish kindergarten teachers - claiming children would get "horror reactions" from the show - a decision was made by the Programme Council to cancel the series in Finland.
Banned Again: 1978
The whole year of 1977 Finnish Space: 1999 fans had to spend without their favourite show, as the Second Season debuted in Finland only on the 17th of June, 1978, some 18 months after the showing of the First Season had been cancelled.
And then only eight Year Two episodes out of 24 were shown before Finnish fans had to swallow the bitter pill once more and another decision made by YLE's Programme Council again postponed the series in Finland.
Year Two episodes
Saturday 17th June 1978, Mainos-TV/TV1, 21:20 (9:20 pm): "Vihan tunne" (One Moment of Humanity).
Saturday 1st July 1978, Mainos-TV/TV1, 21:30 (9:30 pm): "Harhalasku" (Journey to Where).
Saturday 8th July 1978, Mainos-TV/TV1, 21:20 (9:20 pm): "Paluu paratiisiin" (New Adam, New Eve).
Saturday 15th July 1978, Mainos-TV/TV1, 21:20 (9:20 pm): "Kimaltava vaara" (All that Glitters).
Saturday 22nd July 1978, Mainos-TV/TV1, 21:20 (9:20 pm): "Avaruuden kauppias" (The Taybor).
Saturday 29th July 1978, Mainos-TV/TV1, 21:20 (9:20 pm): "Pakolaiset" (The Exiles).
Saturday 5th August 1978, Mainos-TV/TV1, 21:20 (9:20 pm): "Aivo" (Brian the Brain).
Saturday 12th August 1978, Mainos-TV/TV1, 21:20 (9:20 pm): "Tuhon siemen" (Seed of Destruction).
Post-1970s
The next time Finns were able to watch the episodes of Space: 1999 was at the turn of the 1970s and 80s when Helsinki's own cable channel Helsinki-Televisio had the show in its schedule. This time, though, for the limited amount of households in the capital city area who had access to that channel. Local cable channel Tampere-TV ran the show in 1997, then 2000 saw the show's reruns on TVTV channel (later named SubTV). Also MTV Sci-Fi channel on MTV3's cable network had the show in their schedule some years later.
Alien Attack "movie" of 1980 (comprising the episodes Breakaway and War Games) was released as a Finnish VHS tape titled Hyökkäys ("Attack") by Calsor Video in the 1980s. Later on there were also DVD boxes of both the First and Second Season, released with Finnish subtitles by Future Film.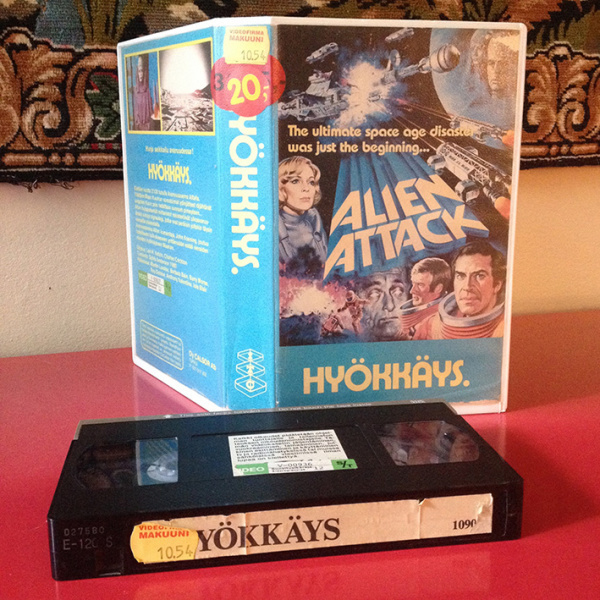 Some valuable background info was provided by:

Avaruusasema Alfa group @ Facebook

Avaruusasema Alfa @ Television Aarteet

Avaruusasema Alfa page by Sami Kalliokoski

Introduction