eino ruutsalo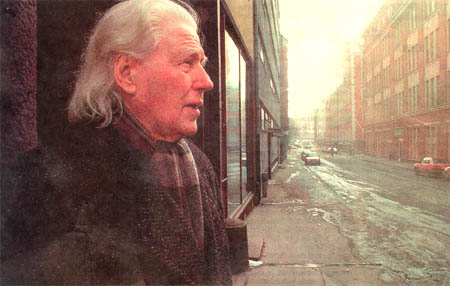 Eino Ruutsalo in 1998

Eino Ruutsalo (19 September, 1921 - 2 April, 2001) was one of the most prominent pioneers in Finnish visual and kinetic arts. He was a film-maker, painter and sculptor, also creating visual poetry composed of text, hand-written and typewritten fragments and photographs. He was a member of a loose group of artists looking for an international angle and opposing the traditional nationalist-patriotic values then predominant in Finnish art scene.
Ruutsalo's film debut was New York, usvainen kaupunki ('New York, The Foggy City') in the early 1950's, shot with an army surplus camera. In the 1960's Ruutsalo directed a famous series of experimental short films, such as Kineettisiä kuvia ('Kinetic Images'), which preceded modern music videos with their techniques. Ruutsalo would scratch film frames with needles or paint them and he used modern jazz and electronic composers such as Otto Donner to accompany his moving images, therefore being also instrumental in the development of Finnish electronic music.
Ruutsalo also directed a series of long feature films inspired by the French New Wave movement, such as Hetkiä yössä ('Moments in the Night') (1961), Tuulinen päivä ('A Windy Day'), Viheltäjät ('The Whistlers') and his last, Laituri ('The Pier') (1965). There was also a documentary film on the architect Alvar Aalto (1972) and several other documentaries.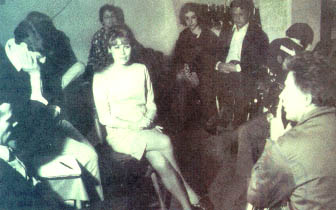 Ruutsalo filming in Paris in the 1960's
Still images from one of Ruutsalo's films


From Food, 1967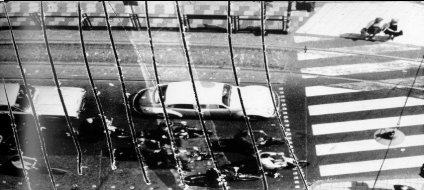 literature:
Kineettisiä runoja, kuvia ja maalauksia = Kinetic poems, pictures and paintings / Eino Ruutsalo, Helsinki: Aquarian, 1990. - 179 p. : illustrated.
Ortodoksinen perinne Suomessa / Matti Sidoroff, Espoo: Weilin + Göös, 1988 - 113 s. : illustrated.
Kuvat Eino Ruutsalon elokuvasta Ortodoksinen perinne Suomessa.
Images from Eino Ruutsalo's film The Orthodox tradition in Finland.
Ruutsalo: maalauksia ja veistoksia = målningar och skulpturer 7.5.-28.8.1988 / Eino Ruutsalo, Fiskars : Expohja-yhdistys, 1988. - 80 p. : illustrated. ("Ruutsalo: Paintings and Sculptures")
Tiiksjärven ilmataistelijat: sotalentäjästä taiteilijaksi / Eino Ruutsalo, Helsinki: Tammi, 1995. - 120 p.: illustrated.
Toropainen tyrmätään / Eino Ruutsalo, Helsinki Kirjapaino Aa, 1945. - 149 p.


links:
24 maalausta sekunnissa: Eino Ruutsalon taiteen uusi ulottuvuus 1960-luvun alussa Eino Ruutsalo: Hyppy
Eino Ruutsalo: Kaksi kanaa
Eino Ruutsalo: Kansa kuvissa
Eino Ruutsalo: Kineettisiä kuvia
Eino Ruutsalo: +Plus-Minus
Eino Ruutsalo: Works at the collections
Expanding into the fourth dimension: kinetics and space-time
Oliko Suomessa 'Uutta aaltoa' 60-luvulla?
SEA: 60-luvun kapina
1960-luvun taiteilijoita
The History of Finnish Media Arts
Eino Ruutsalo by Juri Nummelin
Eino Ruutsalo interview @ Helsingin Sanomat
Eino Ruutsalo Obituary @ Helsingin Sanomat
Eino Ruutsalo Retrospective @ Helsingin Sanomat
Eino Ruutsalo In Memoriam @ SEA (in Finnish)
Eino Ruutsalo @ Google (search results)


FinnScene: Early Years