---



---
Q: What is pHinnWeb?
A: pHinnWeb is a World Wide Web homepage located at http://www.phinnweb.org/ [mirror site: http://phinnweb.bombsquad.org/]. (NOTE: www.phinnweb.com/ is not updated any more!)
pHinnWeb has now been running since April 1996, and has its origins in the material of Finnish techno scene reports written for the American fanzine Skreem by John Fanning aka DJ Entox aka Massaccesi in '95.
pHinnWeb's purpose is to spread information and educate mainly on Finnish but also international electronic dance, listening and avantgarde music scene, rave and club culture, artists, record labels and underground in their various subgenres, forms and history. pHinnWeb keeps information and discography pages on all the most important Finnish electronic music record labels and artists it might be difficult to find anything about otherwise.
Besides that, pHinnWeb also spreads information on both "high" and "low" culture of all kinds (from literature to philosophy, pop culture to artistic fringe movements and so on), and our intention is to keep the page interesting for more diverse people than music fans and professionals only. pHinnWeb has already been mentioned at such international music magazines as De:Bug (GER), The Wire (UK) and XLR8R (US), just to mention a few examples.
pHinnWeb is a non-profit WWW page with no commercial affiliation, and although pHinnWeb has friendly relations to many record labels and artists presented on these pages, it is totally independent and not officially related to nor endorsed by any of them.
---
Q: Who maintains pHinnWeb?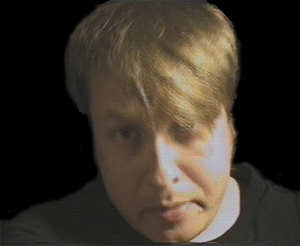 Mostly Mr. Erkki Rautio (image on the right) of Tampere, Finland; also known as pHinn, a record collector, sometimes DJ, freelance writer, Webmaster etc., who's interested in culture equally in all its forms; with the assistance of some volunteering friends and associates in Finland and around the world, helping with graphics, scannings, technical maintenance, discography information etc.
(And by the way, the name "pHinnWeb" existed even before "DJ pHinn" was born, so pHinn is in fact an extension of pHinnWeb and not vice versa - just to avoid any possible accusations of egotism or excessive self-centredness - add smiley here...)
---
Q: What does the name 'pHinnWeb' mean, and why is it spelled so strangely?
'pHinn' is a reference to the early acid house culture -- where the letter 'f' was often written as 'pH' (which in chemistry indicates how "acidy" a substance or liquid is), as in 'pHuture' -- and of course, to the Finnish electronic music this page covers. 'Web' naturally refers to World Wide Web.
---
Q: Is pHinnWeb only about music?
No, but also much more! Under pHinnWeb you can find a large links section on topics not only covering international electronic music, techno and house scene, but also vast links pages on subjects like cinema and comics to literature and philosophy; from mysticism, occult and fringe culture to some of pHinn's own favourite subjects like the 70's sci-fi TV series Space: 1999 or the film director Nicolas Roeg.
---
Q: What does the slogan "the old skool, the nu skool and the pHuture skool of Finnish electronic music" mean?
For the subculturally uninitiated, this is a reference to American hip hop culture, where different generations of musicians were divided into different "schools", depending on whether they were old veterans or newcomers; the latter often influenced by the former.
"The old skool" (old school) are the pioneers of Finnish electronic music like Erkki Kurenniemi, who built his synthesizers in the late 60's for such acts as Sähkökvartetti; the controversial underground band Sperm of that same era, the early 80's Finnish synthpop bands like Organ, Stressi, and so on. More info on all these you can find under pHinnWeb's Early Years section.
"The nu skool" (new school) are the current major Finnish electronic acts and labels, like Pan sonic, Mika "Ø" Vainio, Jimi Tenor, Jori Hulkkonen, Mono Junk, Sähkö, Dum, Function and so on; many of them already internationally acclaimed. More info on them you can find under pHinnWeb's FinnDiscog section.
This page includes info and/or links of Finnish bands, acts and record labels that are electronic, experimental, ambient, instrumental, easy listening, hip hop, industrial, guitar drone, post-rock, jazz, etc.
"The pHuture skool" (future school) are the new unsigned young Finnish acts who record their own demos and MODs (sound modules), about whom pHinnWeb firmly believes we may hear more in the future. You can find info on them from pHinnWeb's DiY (Do It Yourself) page. You can also hear their own music from some of these pages linked here.
---
Q: Does pHinnWeb keep discographies and info pages only on Finnish electronic music artists and record labels?
No - you can also find pHinnWeb-maintained pages on such international electronic artists as Chicks on Speed, Dopplereffekt, Drexciya, J Saul Kane and his various projects and record labels; I-f, Kraftwerk, LFO, Miss Kittin, Model 500 / Juan Atkins, Suicide, and Underground Resistance; also special pages dedicated to Detroit Techno & Electro, Krautrock, the history of electronic music and the 60's psychedelic garage rock; some older favourites like Syd Barrett and Scott Walker - with more to come, undoubtedly!
---
Q: Why I only get an error when I try to get through to a (name) page linked from pHinnWeb?
The link in question has probably changed or ceased to exist. In that case, we would be glad if you could inform us of the change.
Since pHinnWeb is mostly just a one-man project, we hope you understand -- due to the current volume of its links pages and the Webmaster's own lack of time -- all links in pHinnWeb may not be totally up-to-date all the time, so your own feedback is appreciated if you find any dead or changed links here.
So please, if possible, inform us of any changes, and preferably, if you happen to know the current or replacing link (you may do some searches through this page). Also let us know the URL of our links page in question to make the updating easier. We hope you understand maintaining these pages is considerably helped by your own contributions and feedback.
---
Q: Why can't I find from pHinnWeb the information I'm looking for?
Chances are: a) pHinnWeb doesn't contain that info, in which case you'd better check out the Search Engines page, or b) you are completely lost in pHinnWeb. To make the search inside pHinnWeb easier, we are planning an index page and also an internal search engine, about which more info later on this page. If you've got an acute problem, though, send us mail and we are glad to answer any questions. There's now also an alphabetic index on all Finnish artists and record labels at pHinnWeb.
---
Q: It is difficult for me to read the text on pHinnWeb, since most pages have black backgrounds. What can you do for this?
We are sorry about any difficulties, but we have black backgrounds on our pages for aesthetic and image reasons of our own. You might like to try to "paint" the text white with your mouse to make reading easier.
---
Q: I think pHinnWeb looks quite crude, the coding is primitive and graphics could be a lot better. What can you do for this?
With the current budget, skills and resources - not much, sorry. If you want mere eye candy and no information, maybe you should check out some Java/Shockwave/Flash enhanced Web pages of international superclubs instead.
---
Q: I'm a DJ / I work for a radio station / I write about music for a magazine / fanzine / Web site. Can you send me any promo records?
No. pHinnWeb is not a record label and doesn't officially represent any record label nor artist (except pHinnMilk, but due to the budgetary limitations, the promos are so far only sent to "selected" people). For the requests of promotional records and other material, you can try to contact the record labels themselves, the addresses of which you can find here.
---
Q: Can you get me in contact with the (artist name) since I would like to have an interview for my magazine / fanzine / radio show / tv programme, or since I'm the biggest fan of his / hers / theirs in the whole known universe?

No. Instead you can try to contact their record labels, the addresses of which you can find here.
---
Q: I'd like to get my music published on a Finnish label. Can I send you my demos for you to consider publishing them?
No, since pHinnWeb doesn't officially represent any artist or record label (except see above). We are glad to hear your music, though, and might write a review but that's about as far as we can help. Send any material to the labels themselves, the addresses of which you can find here.
---
Q: Do you know where to get rare records by the (artist name) or the (record label name)?
No. We are NOT record dealers and any of the records mentioned on pHinnWeb's discographies, Charts, reviews, etc. are NOT for sale or traded by pHinnWeb. We don't know, either, where to get copies of those. So, to save you the trouble, ALL inquiries on used records will be brutally ignored. (We might provide here in the future, though, a list of good second hand records resources on the Net, so your suggestions on those are welcomed.)
---
Q: When is (artist name) playing in (city/country)?
Unfortunately we have no more information on the touring schedules of artists than if included on the page in question. You are advised to contact their record labels for more info, the addresses of which you can find here (am I starting to repeat myself?).
---
Q: Can you get me backstage passes for the (artist name) show in (city/country)?
No.
---
Q: I am going to visit Finland soon, so what and where are the best parties, clubs and record stores there?
See the FinnContacts section for more info on those. If you want to check out some current events in Finland, take a shortcut to the Fi-Rave page, which keeps info on most of them. Good resources, too, are The Club Calendar of Rumba Magazine, Platinum, Accesss.org and Klubit.com.
---
Q: I would like to publish a portion of text from pHinnWeb in my own publication. Is that possible?
You are welcome to do so, if you only mention the source and URL of this Web page there, and it is for non-profit purposes like fanzines, fan Web sites, etc., or for quotations not in excessive measures (otherwise, please contact us for the fees). See further information here.
---
Q: How can I contact pHinnWeb?
By sending E-mail to phinnweb[at]yahoo.com.
Please, write in English or Finnish. Messages in any other languages will be ignored.
If you'd like to send any promotional material or demos for us to check out or to be reviewed, please read the instructions here.
---
Q: I have some discography information on a record label or artist included on pHinnWeb but which is not there already. Can I send you the info for you to add it to the page in question?
You are more than welcome to do so. When sending any discography info to us, please, use the following format if possible:
Artist name
The title of record (and its format: whether it is 7"/12"/EP/CDS/LP/CD/CD-R/audio tape/etc.)
Catalogue number
Record label
Year (also the date and month, if you can)
The titles of tracks (and timings if included)
Other information (credits, writer/s, publisher and copyright information, contact address, liner notes, label centre inscriptions, etc.)
And please, send as plain text, not as attachment!
---
Q: I would like to send a record or a gig or a party review, article or interview written by me to pHinnWeb. Does pHinnWeb receive any contributions?
pHinnWeb always seeks any new contributors, so again, you are more than welcome to send us any material. The text should be written in fluent English (we might translate from Finnish ourselves, but it is always time-consuming and we are often too busy to do that, so English is preferred) and cover a topic relevant to pHinnWeb. Any of these texts will be published under pHinnWeb's 5HT section. pHinnWeb works on a volunteer basis only, so unfortunately we can't pay you for your contributions at the moment.
---
Q: I'm a graphic designer or I write code myself, and I think I could improve pHinnWeb with my ideas, designs and solutions. How can I make some contributions?
We are always interested in improving pHinnWeb's visual outlook, design and layout, and to make the browsing of pages more easier and faster.
If you want to volunteer and your ideas are more than jaded dance culture clichés (like fractals, "psychedelic" candy colours, tiresome 3-D graphics, "hot" club babes in latest fashion gear, unimaginative Designers Republic clones, pointless Java animations you can see with only the most sophisticated browsers, etc.), suggestions and contributions are always welcomed.
Visual things we like: symbols, traffic signs, Minimalism, Bauhaus (the German art school, not the band), Russian Constructivists of the 1920's, Functionalist movement, Man Ray, Mondrian, Neville Brody, Designers Republic (but as said, not their imitators!).
---
Q: How can I send graphics to pHinnWeb?
If you've got any photographs, record sleeves or other graphics in digital form you'd like to have included at pHinnWeb, please send them to the address phinnweb@yahoo.com, with the subject of mail as "Graphics to pHinnWeb". The preferred formats are JPG/JPEG/GIF, and please, keep the files in moderate size!
Or, the simplest way: if you've got a homepage of your own, please put the graphics there, and send us the URL.
If you don't have the images scanned and would like to send us photographs or high-quality photocopies instead, that's OK too (our snail mail address can be found here), but we are sorry we can't return any material, so be sure also to keep copies of your own.
---
Q: Are there any MP3, Real Audio or other sound files at pHinnWeb?
See this. (See also Teosto and Gramex).
---
Q: What is pHinnWeb Chart?
pHinnWeb Chart keeps monthly record charts from DJs, electronic music makers and home listeners from Finland and around the world. The only rule is that only one chart per month from an individual sender is accepted. There are no limits to the genres (except think twice before you send your Ace of Base/Aqua/Spice Girls/Boyzone/other commercial dance acts charts here) so we are glad to receive all kinds of charts from house to hardcore, ambient to avantgarde, and everything in between. You can see pHinnWeb Chart here.
---
Q: Does pHinnWeb have a mailing list?
Yes. The address is: http://groups.yahoo.com/group/phinnweb/. See also this page for info about Finnish mailing lists on related subjects.
---
Q: Does pHinnWeb receive any financial support or sponsoring?

Not at the moment.

If you like our style and philosophy, and are interested in financially supporting and/or sponsoring pHinnWeb, please contact us for possible negotiations, and let us know a bit about your terms and so on.
---
Q: What is pHinnWeb Society?
pHinnWeb Society, is still in plans, but our ultimate goal is to establish an officially registered society around pHinnWeb, which would not only help in developing this Web page even further, but to create our own publications, to organise parties etc., and in general to support Finnish electronic music culture and scene, and to gather together people who think on the same wavelength. If you think you'd be interested in this, let us know.
---
Q: Does pHinnWeb organise any parties of its own?
Not at the moment.
---
Q: We would like to advertise our party, club event or rave at pHinnWeb's front page. How can that be arranged?
This service applies only to the parties and events held in Finland. See more info here.
---
Q: I would like to link pHinnWeb to my own Web page. May I have your permission for that?
Go ahead, and stop asking silly questions! :)
---
If you have any further comments or questions, please contact us at phinnweb[at]yahoo.com.
---
pHinnWeb Bunker, Somewhere In Tampere, Finland
---
Updated 12 March 2010